Caution: Do not use during diarrhoea, Caution use with immune suppressant medications. Caution use with diabetic animals.
Warnings: For animal use only (Dogs & Cats). Keep out of reach of children and animals. In case of accidental overdose, contact a health professional immediately.
PLEASE NOTE THAT IT CONTAINS TURMERIC: WILL STAIN BENCHTOPS AND CLOTHES, PLEASE BE CAREFUL.
Disclaimer: Individual results may vary.
DOSAGE: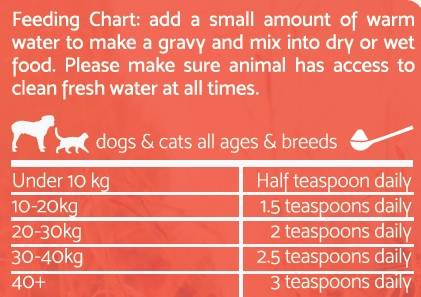 DOSAGE: Superfood Gravy Joint Support
DOSAGE SENIORS SUPPORT: (SHAKE WELL BEFORE USE): Dose twice daily. Give one drop for every 1kg (2lb) of body weight up to 25kg (50lb), add one drop per additional 2kg (4lb). Does not need refrigeration. Contains calibrated dropper: 0.5ml = 10 drops. Mix into food or drop into side of mouth.