Regular price
Sale price
$39.95 USD
Unit price
per
Sale
Sold out
A Tasty Supplement your Dog and Cat actually wants to eat!
Superfood Gravy Digestion Support has been formulated by a small animal naturopath to help maintain normal digestion and well-being. It combines nutrient dense superfoods with medicinal herbs to lower inflammation, soothe the digestive tract and normalise functioning. It may help with indigestion, gas, digestive upset, constipation and poor appetite.
Contains proven gut soothing herbs such as peppermint, ginger and marshmallow.
It is designed to be an everyday supplement as an addition to their normal diet
All Natural, Food based Gravy, Specially Designed for Skin Health
Contains 9 Superfoods including, beetroot, kelp, pomegranate & flaxseed
Just add water to make into a delicious Beef Gravy
Contains Scientifically proven Herbal Medicines to Heal the Skin
Contains Omega 3 Oils
Contains Animal Specific Pre and Probiotics for Gut and Immune Health
All premium Ingredients, No Fillers, Additives or Preservatives
INGREDIENTS:
Tomato powder (18%), Flaxseed powder (15%), Australian Beef stock (13%), Oats Avena sativa husk (8%), Nutritional yeast (8%), Marshmallow Althaea officinalisroot (5%), Kelp Ascophyllum nososum (5%), Beetroot (5%), Turmeric Curcuma longa root (5%), Chickweed Stellaria media ariel parts (5%), Mint Mentha piperita leaves (5%), St Mary's Thistle Silybum marianum whole herb (5%), Ginger Zingiber officinal root (5%), Pomegranate seed (3%), Inulin (Prebiotic 1%), Probiotics (1%) (Lactobacillus acidophilus, L delbrueckii subspecies bulgaricus, L planetarium, L rhamnosus, Bifidobacterium bifidum, Enterococcus faecium, Streptococcus salivarius subspecies)
SAFETY & CAUTIONS:
For use in dogs & cats of all ages and breeds
Stop administration 2 weeks prior to surgery
Take at least 2 hours away from pharmaceutical medications
Not suitable for pregnancy or lactation
DOSAGE: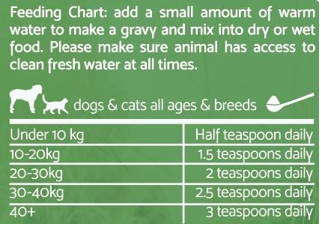 Share
View full details